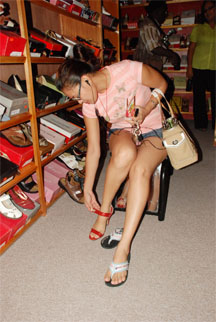 "If your feet aren't happy, you're not happy!" Crystal Lewis declared at the formal opening of the Shoe Source store located at Regent Road, Bourda.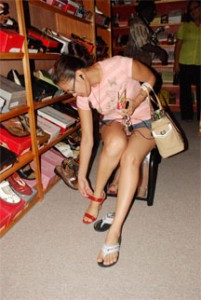 Shoe Source is the newest addition to the Lewis family group of businesses which include a  Shell Gas station and The Gift Centre. This new store will be managed jointly by Crystal Lewis, the youngest member of the family, and her brother Jonathon Lewis who did the store design and layout.
It is housed on the ground floor of the two-storey Lot 157 Regent Road, Bourda building. At a glance through the front windows, the store can almost be mistaken for a comfy bookshop.
However, a closer look will reveal that the tall wooden shelves carry an array of shoes for men and women in varying sizes, colours, brands  and styles, including shoes manufactured by Clarks.
For the ladies there are the Molly H Line, Pierre Dumas and Bruno Valenti while the Majestic Collection and Iceland are available for the guys.
A portion of the store is dedicated to the men while the ladies have their own space. However, the male/female sections are further divided. Signs suspended from the ceiling indicate where the styles available in a specific size can be located; a creative layout designed to save the shopper time.
And whether you're looking for a comfortable pair of shoes for work or  stunning party heels, Shoe Source offers many choices.
Crystal stressed that this new venture is unique because it is "fully family" owned so they can emphasise  the importance of keeping customers happy.
However, she noted that shopping for shoes isn't all about buying pretty ones. "Your shoes affect not only your feet but your precious back as well," she pointed out.
Giving a little advice to the ladies, Crystal explained that  if the heels of a shoe are too high then they can push a woman's hips out of alignment and cause a severe lower back pain. Further, she advised that "one of our feet is bigger than the other and it's best if we shop for a comfortable fit for that foot."
Raj Singh, a representative of the Georgetown Chamber of Commerce and Industry, stated that at present most investors are very reserved and therefore reluctant to invest in expanding or new ventures. However, he commended the Lewis family for their continuous dedication towards the country's economic development.
Jonathon Lewis, during his vote of thanks, emphasized that their endeavours would not have been possible without the support of family members, especially their parents. And as Victor Lewis looked at his son he shed a few tears but his expression radiated family pride and commitment.
"Anyone who understands the importance of making one's family happy will definitely understand the importance of making one's customers happy by giving them quality shoes and service," a special invitee stated.
from Stabroek News: https://www.stabroeknews.com/2008/12/06/news/guyana/new-family-owned-shoe-store-aims-to-make-customers-happy/